Paraesthesias
Paraesthesias, also spelled paresthesias, is a medical term that refers to abnormal sensations in the body, typically involving a feeling of tingling, pricking, numbness, or "pins and needles." These sensations are often described as uncomfortable or abnormal and may be experienced in various parts of the body, such as the hands, feet, arms, legs, or other areas.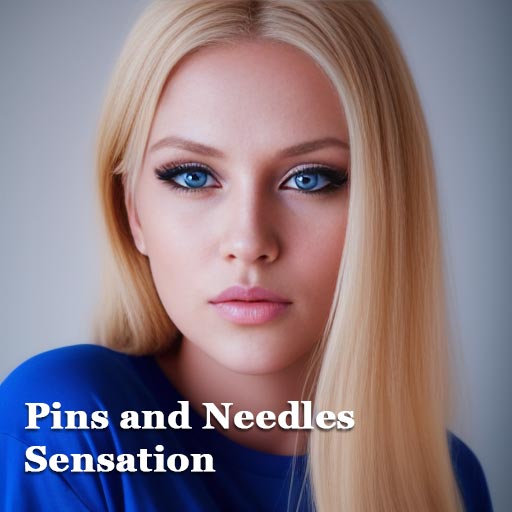 Paraesthesias can be caused by a variety of underlying medical conditions or factors, including:
Nerve Compression or Irritation: Pressure on or damage to nerves, such as in conditions like carpal tunnel syndrome or sciatica, can lead to paraesthesias.

Nerve Disorders: Diseases that affect the nervous system, like peripheral neuropathy, multiple sclerosis, or diabetic neuropathy, can result in abnormal sensations.

Poor Circulation: Reduced blood flow to specific body parts can lead to paraesthesias, as tissues may not receive sufficient oxygen and nutrients.

Vitamin Deficiencies: Deficiencies in certain vitamins, particularly B vitamins like B12 and folate, can contribute to nerve-related symptoms, including paraesthesias.

Infections and Inflammatory Conditions: Conditions like shingles, Lyme disease, or autoimmune diseases can cause nerve inflammation and lead to abnormal sensations.

Medications and Toxins: Some medications or exposure to toxins can induce paraesthesias as a side effect.

Trauma or Injury: Physical injury or trauma to nerves or tissues can result in temporary or chronic paraesthesias.

Psychological Factors: In some cases, paraesthesias may be related to psychological stress or anxiety.

Some medications have the potential to affect the nervous system and cause these symptoms. It's important to note that individual responses to medications can vary, and not everyone will experience paraesthesias as a side effect. Here are some categories of medications and specific drugs that are known to be associated with paraesthesias:
Chemotherapy Drugs: Several chemotherapy agents, such as paclitaxel, vincristine, and cisplatin, can cause peripheral neuropathy, leading to paraesthesias in the hands and feet.

Anticonvulsant Medications: Some anticonvulsants, including phenytoin and carbamazepine, may cause paraesthesias as a side effect.

Antidepressant Medications: Tricyclic antidepressants like amitriptyline and selective serotonin reuptake inhibitors (SSRIs) like fluoxetine have been associated with paraesthesias in some individuals.

Antiretroviral Drugs: Certain medications used to treat HIV, such as zidovudine and didanosine, may lead to peripheral neuropathy and paraesthesias.

Antibiotics: Some antibiotics, particularly fluoroquinolones (e.g., ciprofloxacin), have been linked to peripheral neuropathy and paraesthesias.

Antifungal Medications: Antifungal agents, such as fluconazole, can occasionally cause peripheral neuropathy and associated symptoms.

Antihypertensive Medications: Diuretics and calcium channel blockers are classes of drugs that may rarely induce paraesthesias.

Statins: Statin medications used to lower cholesterol levels, like atorvastatin and simvastatin, have been reported to cause muscle-related paraesthesias in a minority of users.

Immunomodulatory Drugs: Medications used for autoimmune diseases, like interferons and monoclonal antibodies, can result in paraesthesias.

Local Anesthetics: Certain local anesthetics used in medical or dental procedures may lead to temporary paraesthesias.

Vitamin B3, also known as Niacin, is an essential nutrient that plays a crucial role in various bodily functions, including energy metabolism and maintaining the health of the nervous system. While niacin deficiency can lead to neurological symptoms, including paraesthesias (abnormal sensations like tingling or numbness), it is rare in well-nourished individuals.
However, high doses of niacin, often used in the treatment of certain medical conditions like high cholesterol, can indeed cause paraesthesias as a side effect. This is a well-known side effect of niacin therapy and is commonly referred to as the "niacin flush." The niacin flush involves a warm, tingling sensation, often accompanied by redness and flushing of the skin, particularly on the face and upper body. Some people may describe it as a temporary, uncomfortable form of paraesthesias.
The niacin flush is usually harmless and transient, lasting for about 15-30 minutes after taking a high-dose niacin supplement. Over time, the body may develop some tolerance to this side effect. Nevertheless, individuals who experience severe or persistent paraesthesias or other adverse effects from niacin should consult their healthcare provider. It's important to take niacin supplements as directed by a healthcare professional, as high doses can have potential side effects, including liver toxicity, gastrointestinal disturbances, and other adverse reactions.
Diagnosis and management of paraesthesias typically involve a thorough medical history, physical examination, and, if necessary, further diagnostic tests such as nerve conduction studies, electromyography, blood tests, or imaging studies. The underlying cause of paraesthesias must be identified and treated accordingly. Management may involve addressing the primary medical condition, physical therapy, medication, or lifestyle changes to alleviate the abnormal sensations and improve the patient's overall well-being.
Mercury poisoning
Mercury poisoning or hydrargyria occurs when the body is exposed to mercury or its compounds. Symptoms that are indicative of mercury poisoning are lack of coordination and visual/speech difficulties. There might be skin shedding, pigmentation and peripheral neuropathy. The intensity of the symptoms varies based on the exposure. Some persons exposed to mercury might notice difficulty in breathing, bad cough and metallic taste. There might be lung damage and brain damage, based on intensity of mercury inhalation. Once mercury exposure is identified, removal of the source is critical. The clothes, skin and eyes must be cleaned. Chelation therapy might be done on a person who has considerable mercury load in the body.
Diabetic Neuropathy
Diabetic Neuropathy is a nerve disorder caused by acute diabetes. Those suffering from diabetes for more than 20 years are more likely to suffer diabetes neuropathy. Abnormal blood fat levels along with long durations of diabetes are the usual cause of diabetic neuropathy. This condition manifests as weakness and numbness in the limbs. It can also affect the heart, digestive tract and genitals. Peripheral neuropathy is the most common manifestation of diabetic neuropathy wherein the limbs of the patient are affected. Autonomic neuropathy affects digestion, bowel and bladder function, sexual response and perspiration. There might be adverse effects on the heart and blood pressure. Focal neuropathy affects a single nerve in the wrist, thigh or foot. It can also affect the nerves controlling the eye muscles. Smoking and excessive consumption of alcohol may further increase the risk of diabetic neuropathy.
Patients suffering from promimal neuropathy experience pain the hips and thighs and weakness in the legs. Symptoms of diabetic neuropathy include numbness and tingling in the feet, legs and arms. There may be dizziness due to drop in postural blood pressure. Diarrhea, constipation and indigestion are common symptoms of diabetic neuropathy. Patients suffering from diabetic neuropathy may have erectile dysfunction or vaginal dryness. Treatment for diabetic neuropahty has to be individualized. Acupuncture or medications can relieve pain in the case of peripheral neuropathy. Persons suffering from diabetes must monitor blood sugar levels. Any foot problems must be attended to promptly.
Tags:
#Paraesthesias
#Mercury poisoning
#Diabetic Neuropathy