Antacids
One of the common stomach disorders encountered is gastro esophageal reflux also known as heartburn. The stomach contains hydrochloric acid which helps in digestion of the food and subsequently killing ingested microorganisms. The acidity of the gastric HCl is 2M and any increase in the acidity leads to reflux, in which the gastric HCl travels through the cardiac sphincter muscle to the esophagus causing burning sensation and discomfort. Antacids are common choice of drugs which are administered in these conditions as they reduce the acid reflux and peptic ulcer.
Antacids act locally in the stomach region to neutralize the effect of the gastric HCl in order to prevent the onset of peptic ulcer. Most antacids are not absorbed and they are easily excreted in the stool. The predominant forms of chemicals used in the preparation of antacids include sodium bicarbonate, potassium bicarbonate, aluminum hydroxide, aluminum carbonate, magnesium carbonate, magnesium oxide and calcium carbonate. The natural forms of antacids include ginger, bananas, aloe vera, chamomile (used along with tea), carrots and turmeric. The action of antacids on the stomach is carried out throughout the wall to prevent ulcer formation.
Types of antacids

Antacids are recommended depending upon the intensity of the gastric disorder. In normal or mild conditions of acidity, non systemic antacids are recommended as they do not cause much damage. Prolonged administration of systemic antacids may lead to a condition called alkalosis in which the PH of the blood is raised leading to renal failure. Some of the common types of antacids used in the treatment of reflux and peptic ulcers are:
Sodium bicarbonate: It is recommended by many doctors to treat acid reflux and also reduce the acidity of urine and blood. Antacids which contain sodium bicarbonate also contain baking soda and hence it is not recommended for patients having congestive heart failure, hypertension, kidney disorders and gastrointestinal bleeding. Antacids containing sodium bicarbonate should be taken only after meals on a partially full stomach. The side effects include nausea, flatulence, weakness, increased thirst, black stools and irritability.

Aluminum hydroxide: Aluminum hydroxide is widely used as a non-systemic antacid and in most cases is available without prescription. The side effects of aluminum hydroxide include constipation and abdominal discomfort. In order to avoid constipation and abdominal stress, aluminum hydroxide is given in combination with magnesium hydroxide which has laxative properties along with antacid effects The combination of two such compatible antacids helps in sustained action in relieving peptic ulcers and protecting the wall of the stomach.

Calcium Carbonate: These antacids are mainly used in the treatment of indigestion, flatulence along with acidity and more commonly used as it is less expensive than other types of antacids. They are mostly recommended for children below the age of 12. In patients who have a previous history of osteoporosis or any other type of calcium deficiencies, the intake of calcium carbonate in case of acidity also helps in balancing the calcium requirement. If patients have a history of renal calculi or any other allergic reaction, calcium carbonate antacids should be avoided. The major side effect of this antacid is that it interacts with cardiac drugs. Calcium carbonate based antacids usually disintegrate and dissolute in forty minutes.
Drug side effects

Antacids react with many medications; digoxin, isoniazid, quinidine, pseudoephedrine and tetracycline. The potency and absorption of the drug reduces when the antacids interact with the corresponding drugs.
Peptic ulcer disease
A person is affected by peptic ulcer disease when there is an open sore in the stomach lining or duodenum. When the ulcer is located in the stomach, it is gastric ulcer while an ulcer found in the duodenum is a duodenal ulcer and an ulcer in the esophagus is an esophageal ulcer. Some of the causes of peptic ulcers are H. pylori bacteria and NSAIDs like aspirin and ibuprofen. Peptic ulcers are not caused by spicy food or alcohol or smoking. But they can worsen existing ulcers. While stress and personality types can worsen a peptic ulcer but it may not be cause for one. Often chronic ulcers are due to gastroesophageal reflux disease.
Persons suffering from peptic ulcer disease feel a dull ache that keeps coming and going. Typically the pain is felt when the stomach is empty. Vomiting and nausea are other symptoms of peptic ulcer disease. In severe cases, the patient suffering from peptic ulcer disease has black, tarry stools and unexplained weight loss. There might be blood in vomit. Upper GI Endoscopy and x-rays of the stomach can help diagnose peptic ulcer disease. Antibiotics are used to destroy bacteria that cause peptic ulcer disease. Antacids help in neutralizing the acid in the stomach. H2 Blockers are medication that control the production of acid thereby allowing the body time to heal.
Anemia
Anemia stands for 'without blood' in Greek; When the number of red blood cells (RBC) falls below normal, Anemia is a resultant condition. Hemoglobin is an important constituent of RBC. Hemoglobin usually occurs in the range of 12 and 18 g/dL (grams per deciliter of blood). If the hemoglobin levels show a decrease, anemic conditions set in. Consequently, the various organs and tissues of the body do not receive adequate oxygen on account of the diminished oxygen carrying capacity of the blood. This impairs their normal functioning. Usually women have smaller stores of iron than men. Besides, they also lose blood during menstruation making them primary targets for anemia.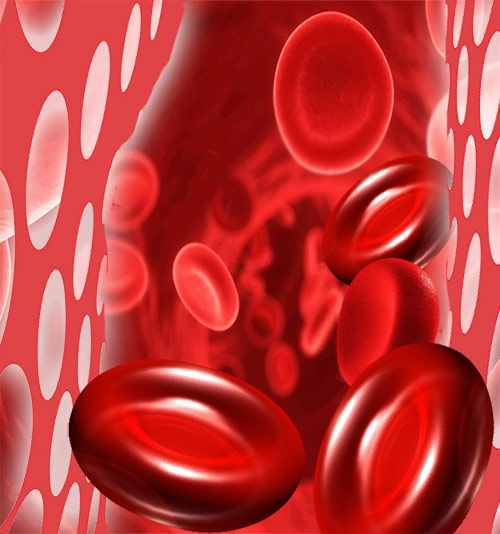 World Health Organization (WHO) defines anemia as a hemoglobin level lower than 13 g/dL in men and lower than 12 g/dL in women. It is essential to be familiar with the typical symptoms of anemia. Often anemia is misdiagnosed and left untreated. An anemic person is likely to feel extremely tired and weak. This is accompanied with dizziness and breathlessness. A person suffering from anemia tends to appear pale and experience feelings of depression. In some cases, anemia can lead to heart ailments too.
Causes of Anemia
Serious disease or infection such as hookworm infection, bleeding piles, esophageal var ices and peptic ulcers.

Hemorrhagic - Excessive blood loss due to surgery, menstruation or injury.

Genetic defects lead to sickle cell anemia, Thalassemia anemia and aplastic anemia.

Hemolytic - Excessive intravascular blood destruction where red blood cells are destroyed prematurely.

Types of Anemia
Iron deficiency Anemia - Nearly 20% adult women tend to suffer from this form of anemia. Loss of blood due to menstruation is not compensated with an iron-rich diet. Pregnancy and breast feeding can also deplete iron stores. Iron deficiency anemia is also noticed during growth spurts or internal bleeding.
Aplastic anemia - When the bone marrow does not produce sufficient quantities of blood cells, aplastic anemia is noticed. Childhood cancers such as leukemia are often responsible for this form of anemia. Other possible causes of aplastic anemia are radiation, cancer or antiseizure medications and chronic diseases such as thyroid or kidney malfunction. Treatment for aplastic anemia involves blood transfusions and bone marrow transplant. This is done to replace malfunctioning cells with healthy ones.
Vitamin deficiency anemia - Low levels of folic acid lead to faulty absorption of iron. Anemia caused due to folic acid deficiency is called Megaloblastic anemia. Pregnancy doubles the body requirements of folic acid and it is imperative that pregnant women take folic acid supplements. Good dietary sources of folate are fresh fruits, green leafy vegetables, cruciferous vegetables, liver and kidney, dairy products and whole grain cereals. Vegetables should be eaten raw or lightly cooked.Folic acid anemia is also a common problem faced by alcoholics. Vitamin B-12 deficiency can lead to a condition of Pernicious anemia. Diseases such as thyroid malfunction or diabetes mellitus can affect the body's ability to absorb vitamin B-12. This vitamin is vital in the production of hemoglobin.
Vitamin C Deficiency Anemia is a rare form of Anemia that is the result of small red cells owing to prolonged dietary deficiency of the Vitamin C.
Sideroblastic Anemia: In this anemia, the body has sufficient iron but it fails to incorporate it into hemoglobin.
Hemolytic Anemia results from high rate of destruction of Red Blood Cells (RBC) at a rate faster than the rate bone marrow can replenish them.
Thalassemia anemia - Thalassemia or Cooleys Disease is a hereditary disorder found predominantly in people of South East Asian, Greek and Italian racial groups. This form of anemia is seen in differing degrees as Thalassemia encompasses a group of related disorders that affect the human body in similar ways. The most common occurrences of Thalassemia are alpha and beta thalassemia. Thalassemia anemia is characterized by symptoms like jaundice, enlarged spleen, shortness of breath and facial bone deformities.
Diagnosing Anemia

A complete blood count test will test for hemoglobin levels and display an anemic condition. But often anemia is a symptom whose cause lies deeper. The cause and type of anemia will determine the treatment that is needed. A stool test will help in detecting occult blood. Hemoglobin electrophoresis is a blood test that helps identify abnormal hemoglobins. Diagnosing thalassemia or sickle cell anemia becomes possible with this test.
Treating Anemia

Deficiency can be treated with supplements of iron, Vitamin B-12 and Vitamin C. Partaking an iron-rich diet can be beneficial for those suffering from nutritional deficiency anemia. Seafood, nuts, whole grains and dried fruits such as raisins, prunes and apricots are rich in iron. Ensure adequate consumption of Vitamin C as it aids and stimulates iron absorption. Try and combine citrus foods with iron-rich foods - add tomatoes to a turkey sandwich or chopped strawberries with iron-fortified breakfast cereals.
Tags:
#Antacids
#Peptic ulcer disease
#Anemia