Carpal tunnel syndrome
CTS) is a condition that affects the hand and the wrist. It can result from injury to the wrist - dislocated or broken wrist bones or sprains. Carpal Tunnel Syndrome can also be caused by diabetes, rheumatoid arthritis or thyroid disease. Those who are at increased risk are computer users, violinists, golfers, meat packers, assembly line workers, hair stylists and mechanics since they perform the same hand movements repeatedly.
The median nerve controls some of the muscles that move the thumb. It also provides sensations of temperature, pain and touch from the hand to the brain as well as sweating of the hand. CTS results when the tunnel walls are compressed, thereby putting pressure on the nerve. Carpal tunnel syndrome is particularly associated with tasks that involve:
Repeated wrist movement
Awkward hand positions
Strong gripping
Stress on the palm
Use of vibrating tools

Lubrication is essential for the normal and smooth functioning of the tendons. With excessive or repetitive activity on the carpal tunnel, the lubrication system may malfunction. It may not produce enough fluid or it may produce a fluid with poor lubricating qualities. This failure creates friction between the tendon and its sheath causing inflammation and swelling of the tendon area.
The swelling squeezes the median nerve in the wrist or carpal tunnel. Repeated episodes of inflammation cause fibrous tissue to form. The fibrous tissue thickens the tendon sheath and hinders tendon movement. This makes moving of the wrist or the hand painful.

Symptoms of this condition usually start gradually - frequent burning, tingling, pins and needles or itching and numbness in the palm of the hand and the fingers especially the thumb and the index and middle fingers. In time, these symptoms can spread to the arm and shoulder. They tend to worsen at night or first thing in the morning since many people sleep with flexed wrists.
Carpal tunnel syndrome can affect one or both hands and the severity of the symptoms can vary. The hand muscles may become weakened, making it difficult to grip objects. It can also result in permanent loss of feeling. Fine finger movements, such as writing, may become increasingly difficult. In extreme cases patients might feel tingling during the day and the muscles at the base of the thumb may waste away. In some chronic cases people are unable to tell between hot and cold by touch.

Carpal tunnel exercises should be done by individuals who perform hand-intensive jobs. These exercises should be performed at the start of each workday and during a break. It reduces the amount of pressure on the median nerve in the carpal tunnel and prevents injury. A few important exercises for avoiding the carpal tunnel syndrome are discussed below:
The most important thing to do is to get up from your desk and move around every 1/2 hour


Extend and stretch both wrists and fingers acutely as if they are in a handstand position


Straighten both wrists and relax fingers


Make a tight fist with both hands and bend both wrists down.


Take your arms out to the sides with the palms facing down. Extend your fingers and stretch through the elbows. On exhaling, rotate your shoulders back and bring the palms facing up.


Electromyography
Electromyography or EMG is a diagnostic test that understands the physiological of muscles thereby assessing their health. Electromyography involves inserting a needle electrode through the skin into the muscle. This electorde detects electrical activity in the muscles and nerves controlling the muscles. A patient is asked to flex or contract the muscles so that the response of the muscle to the nerve stimuli is observed. An electromyograph is used to detect and measure electric potential that is generated by the contracting muscles. Other indicators to the proper functioning of the muscles and their corresponding nerves are the size, duration and frequency of electric signals received from them. EMG is often conducted along with a nerve conduction velocity test.
The EMG test is used to diagnose any possible weakness or impaired muscle strength due to neurological problems. Some discorders that can lead to abnormal readings on EMG test are cervical spondylosis, myasthenia gravis, carpal tunnel syndrome, myopathy, Brachial plexopathy, Guillain Barre syndrome, sciatic nerve dysfunction and mononueritis multiplex. EMG test aids in differentiating between a muscle and nerve disorder. The muscle may feel tender after the EMG test with localised bruising.
Vitamin B complex
B Vitamins - the group of water soluble vitamins essential for the normal functioning are not usually produced by our bodies and require to be replenished regularly.

Vitamin B1 - Thiamine
Vitamin B2 - Riboflavin
Vitamin B3 - Niacin, Niacinamide
Vitamin B5 - Pantothenic acid
Vitamin B6 - Pyridoxine
Vitamin B7 - Biotin
Vitamin B8 - Inositol
Vitamin B9 - Folic Acid
Vitamin B12 - Cyanocobalamin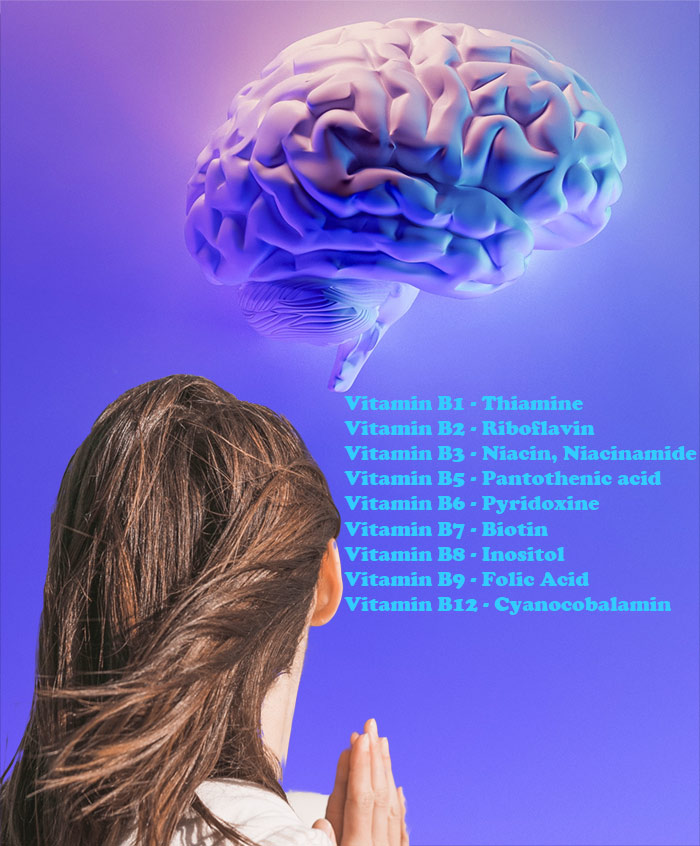 Some Vitamin B Complex formulations, in addition to the above major B Vitamins, may contain Inositol, choline bitartrate and Para Amino Benzoic Acid - PABA.
Vitamin B1
Vitamin B1 or thiamine helps the body convert carbohydrates into energy and it is necessary for the heart muscles, nervous system and brain to function properly. Very low levels of Vitamin B1 can lead to Beriberi - a cardiovascular and neurological disease. Deficiency of Vitamin B1 can cause weight loss and weakness. Fortified breads, cereals, pasta, meat, fish, dried beans, leafy vegetables, whole grains, egg yolk, soy foods and peas contain Vitamin B1. Brewer's yeast is a natural source high in thiamine.
RDA - Recommended Daily Allowance:

Adults - Men: 1.2 mg
Adults - Women: 1.1 mg
Pregnant Women: 1.4 mg
Breastfeeding Women: 1.5 mg

Vitamin B1 is generally well tolerated and rarely produces adverse side effects with high doses. Deficiency of Vitamin B1 can result in Beriberi ( literally 'I can't' in Sinhalese language) - a disease with the symptoms of loss of appetite, weakness, irritability, tingling of nerves, poor muscles coordination and muscular pain in the calves. This disease is due to poor metabolization of glucose.
Vitamin B2
This is essential for converting carbohydrates into energy and produce red blood cells. Significantly, this vitamin is important for vision. Vitamin B2 or Riboflavin is essential for fat and protein metabolization. Vitamin B2 boosts the immune system, maintains healthy hair and helps functioning of the nervous system. Deficiency of Vitamin B2 can lead to acne, muscle cramps, carpal tunnel syndrome and migraine headache. Best natural sources of Riboflavin are meat, eggs, legumes, nuts, dairy products, green leafy vegetables, broccoli, asparagus, and fortified cereals.
RDA - Recommended Daily Allowance:

Adults - Men: 1.3 mg
Adults - Women: 1.1 mg
Pregnant Women: 1.4 mg
Breastfeeding Women: 1.6 mg

Vitamin B2 is generally well tolerated and rarely produces adverse side effects like sensitivity to light with high doses. Supplements of Riboflavin can result in bright yellow urine.
Vitamin B3
Food is turned into energy in the body by Niacin. Niacin or Vitamin B3 also helps maintain healthy skin and important nerve functions. The benefits of Vitamin B3 include good blood circulation and brain functioning. Vitamin B3 is also required in order to produce various hormones including progesterone and testosterone. Vitamin B3 - Niacin and its related compounds Nicotinic Acid and Nicotinamide plays an important role in lowering cholesterol levels and aiding widening of arteries. It plays a role in fat, protein and carbohydrate metabolization. Severe deficiency of Vitamin B3 can lead to Pellagra - diarrhea, scaly skin and dementia. This vitamin is naturally found in red meat, poultry, fish, fortified cereals and peanuts.
RDA - Recommended Daily Allowance:

Adults - Men: 16 mg
Adults - Women: 14 mg
Pregnant Women: 18 mg
Breast feeding Women: 17 mg

Vitamin B3 in high doses can result in burning, tingling sensation with/without red flushed skin. Niacin can also trigger hyperglycemia in the case of type 2 diabetes. Humans can synthesize Niacin from the amino acid Tryptophan in the presence of Vitamin B2 and Vitamin B6.
Vitamin B5

Vitamin B5 also known as Pantothenic acid is often used in combination with other B Vitamins in Vitamin B formulations. Vitamin B5 is primarily used for treating dietary deficiencies, acne, alcoholism, allergies, baldness, asthma, attention deficit-hyperactivity disorder (ADHD), autism, burning feet syndrome, yeast infections, heart failure, carpal tunnel syndrome, respiratory disorders, celiac disease, colitis, conjunctivitis, convulsions and cystitis. Some times Vitamin B5 is also used for controlling dandruff, depression,tongue infections, gray hair, headache, hyperactivity, low blood sugar, insomnia, irritability, muscular dystrophy, muscular cramps in the legs associated with pregnancy or alcoholism and improving athletic performance.
RDA - Recommended Daily Allowance:
Adults - Men: 5 mg
Adults - Women: 5 mg
Pregnant Women: 6 mg
Breastfeeding Women: 7 mg
Vitamin B5 is generally well tolerated in moderate doses but may produce adverse side effects like diarrhea with high doses.
Vitamin B6
Important for brain and nerve function, vitamin B6 - Pyridoxine helps the body break down the proteins and produce red blood cells. It is essential in making antibodies, maintaining nerve function and in the production of hemoglobin. Vitamin B6 also has a role in homocysteine metabolism. Vitamin B 6 deficiency leads to confusion, irritability and depression. Potatoes, bananas, beans, nuts, legumes, whole grains and poultry, fish, eggs, spinach and fortified cereals naturally contain Vitamin B6.
RDA - Recommended Daily Allowance:
Adults - Men below 50 years: 1.3 mg
Men - above 50 years: 1.7 mg
Adults - Women Below 50 years: 1.3 mg
Women Above 50 years: 1.5 mg
Pregnant Women: 1.9 mg
Breastfeeding Women: 2 mg

Vitamin B6 is generally well tolerated but may produce neurological disorders with high doses.
Vitamin B7
Vitamin B7 / Biotin plays a key role in breaking down of fats, proteins and Carbohydrates apart from regulating signals between cells. Some studies have indicated that supplementation of this Vitamin B / Biotin has some positive effect on hair loss and brittle nails.
Biotin or Vitamin B7: RDA - Recommended Daily Allowance:
Adults: 30 microgram
Biotin deficiency manifests in the form of scaly inflammation of the skin, poor appetite, hair loss, nausea, vomiting, anemia, depression and general weakness.
Vitamin B8
Inositol is part of the Vitamin B group and included as Vitamin B8. Our body manufactures Inositol from glucose. Next to Niacin, in terms of quantities, human body contains more Inositol, specifically in the spinal cord nerves, the brain and the cerebral spinal fluid. Inositol is a fundamental ingredient of cell membranes. It is necessary for proper functioning of nerves, brain and muscles in the body.
RDA - Recommended Daily Allowance:
It has not been established in any Scientific study as of now - about the minimum / maximum for this Vitamin B8 / Inositol. In many cases administration of this Vitamin B8 has been as high as 22gm without any adverse effects - indicating that this Vitamin is well tolerated.
Vitamin B9
Folate or Vitamin B9 is folic acid or folacin, that helps to produce red blood cells and it essential for DNA creation. Dried beans, legumes, green leafy vegetables, orange juice, asparagus, fortified bread, rice, and cereals are all good natural sources of Vitamin B9.
RDA - Recommended Daily Allowance:
Adults - Men: 400 mcg
Adults - Women: 400 mcg
Pregnant Women: 600 mcg
Breast feeding Women: 500 mcg

Vitamin B9 is generally well tolerated but may mask a Vitamin B12 deficiency with high doses. Deficiency of Folate can result in Megaloblastic Anemia which is also known as large cell Anemia or Macrocytic Anemia. Deficiency during the time of pregnancy or the period preceding pregnancy may result in neural tube defects in the fetus.
Vitamin B12
Vitamin B12 or cobalamin helps to make red blood cells and is important for brain and nerve cell functions. Vitamin B12 is effective in DNA synthesis, fatty acid synthesis and cell metabolism. Vitamin B 12 is found naturally in fish, red meat, poultry, milk, cheese, and eggs and also breakfast cereals. B12 deficiency leads to pernicious anemia - which manifests in the form of weakness, sore tongue, general apathy, back pain and tingling in the extremities. Vitamin B12 helps maintain a healthy digestive system, healthy skin and hair and protect against high blood pressure and heart disease. Vitamin B 12 helps protect against breast cancer, colon cancer and prostate cancer.
RDA - Recommended Daily Allowance:
Adults - Men: 2.4 mcg
Adults - Women: 2.4 mcg
Pregnant Women: 2.6 mcg
Breast feeding Women: 2.8 mcg

Vitamin B12 is generally well tolerated.
Tags:
#Carpal tunnel syndrome
#Electromyography
#Vitamin B complex