Anemia
Anemia stands for 'without blood' in Greek; When the number of red blood cells (RBC) falls below normal, Anemia is a resultant condition. Hemoglobin is an important constituent of RBC. Hemoglobin usually occurs in the range of 12 and 18 g/dL (grams per deciliter of blood). If the hemoglobin levels show a decrease, anemic conditions set in. Consequently, the various organs and tissues of the body do not receive adequate oxygen on account of the diminished oxygen carrying capacity of the blood. This impairs their normal functioning. Usually women have smaller stores of iron than men. Besides, they also lose blood during menstruation making them primary targets for anemia.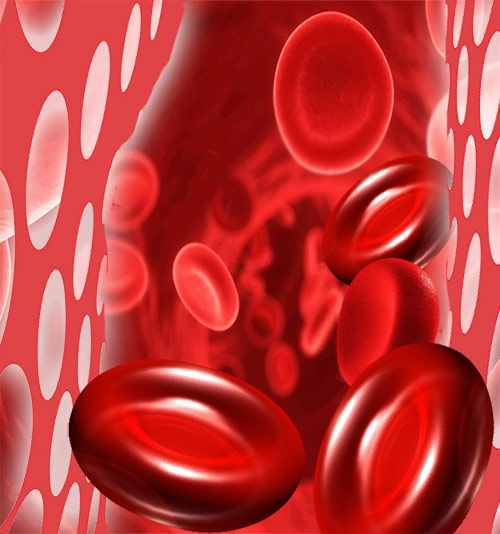 World Health Organization (WHO) defines anemia as a hemoglobin level lower than 13 g/dL in men and lower than 12 g/dL in women. It is essential to be familiar with the typical symptoms of anemia. Often anemia is misdiagnosed and left untreated. An anemic person is likely to feel extremely tired and weak. This is accompanied with dizziness and breathlessness. A person suffering from anemia tends to appear pale and experience feelings of depression. In some cases, anemia can lead to heart ailments too.
Causes of Anemia
Serious disease or infection such as hookworm infection, bleeding piles, esophageal var ices and peptic ulcers.

Hemorrhagic - Excessive blood loss due to surgery, menstruation or injury.

Genetic defects lead to sickle cell anemia, Thalassemia anemia and aplastic anemia.

Hemolytic - Excessive intravascular blood destruction where red blood cells are destroyed prematurely.

Types of Anemia
Iron deficiency Anemia - Nearly 20% adult women tend to suffer from this form of anemia. Loss of blood due to menstruation is not compensated with an iron-rich diet. Pregnancy and breast feeding can also deplete iron stores. Iron deficiency anemia is also noticed during growth spurts or internal bleeding.
Aplastic anemia - When the bone marrow does not produce sufficient quantities of blood cells, aplastic anemia is noticed. Childhood cancers such as leukemia are often responsible for this form of anemia. Other possible causes of aplastic anemia are radiation, cancer or antiseizure medications and chronic diseases such as thyroid or kidney malfunction. Treatment for aplastic anemia involves blood transfusions and bone marrow transplant. This is done to replace malfunctioning cells with healthy ones.
Vitamin deficiency anemia - Low levels of folic acid lead to faulty absorption of iron. Anemia caused due to folic acid deficiency is called Megaloblastic anemia. Pregnancy doubles the body requirements of folic acid and it is imperative that pregnant women take folic acid supplements. Good dietary sources of folate are fresh fruits, green leafy vegetables, cruciferous vegetables, liver and kidney, dairy products and whole grain cereals. Vegetables should be eaten raw or lightly cooked.Folic acid anemia is also a common problem faced by alcoholics. Vitamin B-12 deficiency can lead to a condition of Pernicious anemia. Diseases such as thyroid malfunction or diabetes mellitus can affect the body's ability to absorb vitamin B-12. This vitamin is vital in the production of hemoglobin.
Vitamin C Deficiency Anemia is a rare form of Anemia that is the result of small red cells owing to prolonged dietary deficiency of the Vitamin C.
Sideroblastic Anemia: In this anemia, the body has sufficient iron but it fails to incorporate it into hemoglobin.
Hemolytic Anemia results from high rate of destruction of Red Blood Cells (RBC) at a rate faster than the rate bone marrow can replenish them.
Thalassemia anemia - Thalassemia or Cooleys Disease is a hereditary disorder found predominantly in people of South East Asian, Greek and Italian racial groups. This form of anemia is seen in differing degrees as Thalassemia encompasses a group of related disorders that affect the human body in similar ways. The most common occurrences of Thalassemia are alpha and beta thalassemia. Alpha thalassemia occurs when there are defects in the genes that produce alpha globin, while beta thalassemia occurs when there are defects in the genes that produce beta globin. The severity of the disorder depends on how many genes are affected and the specific mutations involved. Thalassemia anemia is characterized by symptoms like jaundice, enlarged spleen, shortness of breath and facial bone deformities.
Thalassemia is a group of inherited blood disorders that affect the production of hemoglobin, a protein in red blood cells that carries oxygen throughout the body. The disorder is caused by mutations in the genes that control the production of hemoglobin. Thalassemia anemia occurs when a person has fewer red blood cells than normal, or the red blood cells are smaller and do not contain enough hemoglobin. This can lead to a range of symptoms, including fatigue, weakness, pale skin, jaundice, and an enlarged spleen.
Treatment for thalassemia anemia may involve blood transfusions, iron chelation therapy to remove excess iron from the body, and bone marrow transplant in severe cases. With appropriate treatment and management, many people with thalassemia can lead healthy and productive lives.
Diagnosing Anemia

A complete blood count test will test for hemoglobin levels and display an anemic condition. But often anemia is a symptom whose cause lies deeper. The cause and type of anemia will determine the treatment that is needed. A stool test will help in detecting occult blood. Hemoglobin electrophoresis is a blood test that helps identify abnormal hemoglobins. Diagnosing thalassemia or sickle cell anemia becomes possible with this test.
Treating Anemia

Deficiency can be treated with supplements of iron, Vitamin B-12 and Vitamin C. Partaking an iron-rich diet can be beneficial for those suffering from nutritional deficiency anemia. Seafood, nuts, whole grains and dried fruits such as raisins, prunes and apricots are rich in iron. Ensure adequate consumption of Vitamin C as it aids and stimulates iron absorption. Try and combine citrus foods with iron-rich foods - add tomatoes to a turkey sandwich or chopped strawberries with iron-fortified breakfast cereals.
Blood Transfusion
Blood transfusion is one of the important procedures administered in healthcare centers to meet surgical and trauma needs. This procedure is categorized under transfusion medicine section. Blood transfusion is a high-risk procedure as it involves multiple protocols and guidelines for safe and effective transfusion.
Guidelines and Procedure

Transfusion medicine has high significance as it involves the transfusion of blood and blood products depending upon the patient needs. Blood required for the transfusion is obtained from blood banks, which are established either by the government or privately following NCCLS standards for the blood banks. The standards are evaluated by organizations such as WHO to set a uniform and global protocol for safe transfusion. Blood transfusion is predominantly done to increase the percentage of hemoglobin in anemic patients and also to replace vital components such as platelets and serum proteins in some medical conditions. Other reasons for blood transfusion is to replace the amount of blood lost during surgery or trauma. Patients suffering thrombocytopenia (any disorder in which there is an abnormally low amount of platelets) might be in need of platelet transfusion.
Blood banks are authorized by the government to collect blood of different groups. Some of the rare groups include B negative, O negative and Bombay blood group. In these situations, the names and the address of these respective rare blood types are noted to ensure timely availability in case of a transfusion request. Cancer patients also require transfusion in case of conditions such as leukemia and malignant carcinomas associated with spleen or bone marrow. Leukocyte reduction procedure is followed in some transfusion centers in order to minimize the incidence of transfusion-associated allergic reactions. All donors are checked for a three-month gap before the subsequent transfusion to facilitate fresh blood collection from the donors containing viable red blood cells.
Different types of Blood transfusions:

Fresh Whole Blood: This is mostly needed during cardiac surgery or massive hemorrhage. Fresh Whole blood has RBC, plasma and fresh platelets.

Packed RBC: This is mostly needed to raise the hematocrit (the proportion of total blood volume that is composed of red blood cells).

Frozen packed RBC: Stored for nearly 3 years, frozen packed RBC is sparingly used. It is often used for rare blood groups. Patients suffering severe leukoagglutinin reactions or anaphylactic reactions might need this.

Leukocyte-Poor Blood: Patients who suffer severe leukoagglutinin reactions might need this. It is an expensive process as WBC are removed by centrifugation.
Precautions and risks

Transfusion is a very important procedure and hence primary analysis of the donor blood is done in order to avoid blood borne sepsis, transfusion allergies and organ damage. The donor blood is always cross-matched with the recipient's in order to check the compatibility of the blood. All procedures are documented to ensure safety and tracking of a transfusion procedure, as it is associated with medico-legal protocols. The A and B antigens are the first check before transfusion. In emergencies, type O/Rh-negative blood can be given to any recipient and usually packed cells are given. The Rh factor has also to be tested. Blood from the donor is also investigated for infections such as HIV 1&2, HBV, HCV, and VDRL to ensure safe transfusion.
Blood is collected from the healthy donor in a blood bank by administering venipuncture procedure from the brachial region. The obtained blood is transported for immediate need in surgeries or stored for few days in case of a scheduled surgery having the requirement for the particular blood group. The transfusion requirement is clearly stated in the surgical form and the blood bank technicians provide number of units required on the given date. Some of the common side effects associated with blood transfusions are infections of both viral and bacterial origin obtained from an infected donor. Receipt of blood contaminated with gram-negative bacteria often causes septic shock, Disseminated intravascular coagulation or DIA (a large amount of procoagulant enters the blood stream over a short period of time, overwhelming the body's ability to replenish coagulation factors and causing bleeding) and acute kidney injury. Receipt of blood with gram-positive bacteria causes fever and Bacteremia (presence of bacteria in blood) but rarely causes sepsis.
Fetal Surgery
Fetal surgery refers to the surgical treatment of the developing baby in the womb to rectify congenital defects. Surgery of the fetus is performed to fix the prenatally diagnosed anomalies. However fetal surgery is a complicated procedure and comes with lot of risks to both mother and the baby. Yet, doctors recommend fetal surgery, if the risks associated with continuing the pregnancy, without surgical intervention, outweighs the risks that come with fetal surgery. Certain abnormalities, if left to progress in the womb, may turn fatal and infant may die soon after the birth. However fetal intervention is initiated only after taking the safety of the mother into consideration. The common risks that are associated with fetal surgery are premature delivery, infection of the uterus, leaking of amniotic fluid through the membrane, potential infertility and the risk of anesthesia.
There are various techniques followed to diagnose fetal anomalies. The diagnostic method can be non invasive such as ultrasound, fetal echocardiography, MRI, Radiography, Measuring MSAFP (maternal serum alpha-fetoprotein) and Measuring maternal serum beta-human chorionic gonadotropin (HCG) or invasive procedure such as amniocentesis, Chorionic villus sampling and Percutaneous umbilical blood sampling (PUBS) are used to detect the birth defects.
Types of Fetal Surgery

Depending on the incision level, fetal surgery is classified into three types.

Open Fetal Surgery

Open fetal surgery is almost similar to cesarean section and involves a total opening of the uterus. In this type of surgery, a long incision is made in the mother's abdomen and then on the uterus to reach the fetes. Once the surgical correction is performed on the fetus to treat the birth defect, the uterus and abdominal is closed back leaving the fetus intact. Open fetal surgery is performed under general anesthesia. Surgery is performed using special instruments containing staples to prevent bleeding from uterus. During the operation, warm saline water is infused to maintain the position of placenta and umbilical cord and surgeon will keep a vigil on the pulse and heart rate of the baby with the help of the oximeter. After the surgery, the mother is hospitalized for close to a week to facilitate close monitoring. One should remember that, with open fetal surgery, mother will forgo the option of vaginal delivery for the present and future deliveries. She can deliver the baby only through C-section. She may be given some medication to avoid pre term labor. Open fetal surgery is followed for the conditions like chest mass, neck mass, spinbifida, myelomeningocele and Sacrococcygeal teratoma (SCT) (a tumor at the base of the child's tail bone).
There is one more variation to the open fetal surgery called the EXIT (Ex Utero Intrapartum Treatment) Procedure. EXIT surgery is performed at the end of the full term and just before the delivery. In this method the baby is partially delivered by bringing out only a part of the fetes from uterus and keeping rest of the fetes attached to placenta and umbilical cord to allow blood circulation. Once the defect is rectified, the baby is delivered fully. Exit procedure is essentially followed to correct the airway blockage in the baby.
Fetoscopic surgery

Fetoscopic surgery is minimally invasive and unlike open fetal surgery, fetes remains inside the uterus while operating. Surgeon uses special instruments such as laser and makes a small incision with the help of the fetoscope to correct the birth defects. Fetoscopic surgery has shown high success rate in conditions such as Twin-Twin Transfusion Syndrome (TTTS), Twin Reversed Arterial Perfusion (TRAP), Amniotic band syndrome, and Tracheal occlusion for CDH. Fetoscopic surgery does not pose a risk of pre term labor and also eliminates most of the risks associated with open fetal surgery. This is essentially why fetoscopic surgery is the preferred choice, yet one should note that few complicated birth defects can be corrected only through open fetal surgery.
Fetal image guided surgery

Fetal image guided surgery is the least invasive of all wherein surgery is performed with the guidance of images of fetus produced on the external screen by ultrasound. Very thin instruments are inserted through a small opening in the abdomen and the correction is made without any endoscopic view and the whole procedure is guided by the sonogram images.
Various congenital conditions treated through fetal intervention

Congenital diaphragmatic hernia (CDH): Congenital diaphragmatic hernia (CDH) refers to the opening in the diaphragm through which the contents of the abdomen enter the chest cavity leaving no space for the lungs to develop properly. This is a serious condition and may lead to respiratory failure after birth. This condition, depending upon its severity, is treated through fetal intervention.
Spina bifida: Spina bifida refers to a condition wherein spinal column of the baby does not close properly around the spinal cord and the nerves start to protrude through the opening. Spina bifida can range from mild to severe form, and the severe cases lead to serious neurological problems after the birth. Only the severe form of spina bifida like Meningocele and Myelomeningocele call for fetal intervention through open fetal surgery.
Neck masses: Neck masses are the tumors of the neck that may obstruct the airway and esophagus of the child and also increase the level of amniotic fluid surrounding the baby. Typically, tumors of any kind are treated after birth. In rare cases they grow very large and may even cause heart failure. In such cases fetal intervention becomes necessary to remove the tumors.
Lung lesions: Lung lesions refer to the abnormal growth of lung tissue and these lesions can be cystic (fluid filled) or solid. There are various types of lung lesions and treatment depends upon their size and location. During pregnancy, continuous monitoring is necessary to keep vigil on the size of the lesion. Most often lung lesions shrink and make way for normal development. Lesions of smaller and moderate size are best treated after delivery. But if the size of the lung tumor is abnormally huge and poses a risk of hydrops (excess accumulation of fluid in the fetus) fetal intervention is initiated. Cystic lesions are normally removed through needle aspiration under the constant guidance of ultrasound images, but solid lesions require more elaborate procedure such as EXIT.
Congenital heart diseases: Not all congenital heart defects call for fetal intervention. Sometimes the septum (wall separating the right and left side of the heart) of the heart develops a hole while in the womb. However septum defects are typically treated after the birth of the child and rarely require fetal surgery. But if the heart develops severe obstructive cardiac disorders such as aortic stenosis, pulmonary stenosis and coarctation of the aorta,a fetal image-guided procedure may be necessary to open or enlarge the narrowed valve. This procedure involves placing a balloon catheter by inserting it through the uterus and into the fetal's heart.
Amniotic Band Syndrome: This is a condition where fetus is entrapped in fibrous amniotic bands in the womb, restricting blood flow to the affected portion of the fetes. It normally affects legs, arms, toes and fingers. In utero surgery may be performed to rectify the condition if there is risk of amputation of the limb after the birth.
Twin-to-twin transfusion syndrome (TTTS): TTTS is a condition that occurs in identical twins wherein unbalanced exchange of blood takes place between the twins. One receives higher amount of blood whereas the other receives less amount. The fetus with less blood supply may become anemic and the one with excess blood supply may suffer heart failure due to excess fluid. Fetal surgery through laser fetal intervention is the preferred option to correct the condition. This procedure involves inserting a laser along with small telescope into the uterus and separating the blood vessels on the placenta that are connected to both twins.
Congenital high airway obstruction syndrome (CHAOS): Congenital high airway obstruction syndrome (CHAOS) refers to the blocking of fetal airway resulting in enlarged lungs, windpipe and bronchial tube. A complete or near to complete blockage may lead to a heart failure. Though congenital high airway obstruction syndrome (CHAOS) is treated after birth, in severe cases where fetes is at high risk such as hydrops, fetal surgery is performed.
Tags:
#Anemia
#Blood Transfusion
#Fetal Surgery