Anemia
Anemia stands for 'without blood' in Greek; When the number of red blood cells (RBC) falls below normal, Anemia is a resultant condition. Hemoglobin is an important constituent of RBC. Hemoglobin usually occurs in the range of 12 and 18 g/dL (grams per deciliter of blood). If the hemoglobin levels show a decrease, anemic conditions set in. Consequently, the various organs and tissues of the body do not receive adequate oxygen on account of the diminished oxygen carrying capacity of the blood. This impairs their normal functioning. Usually women have smaller stores of iron than men. Besides, they also lose blood during menstruation making them primary targets for anemia.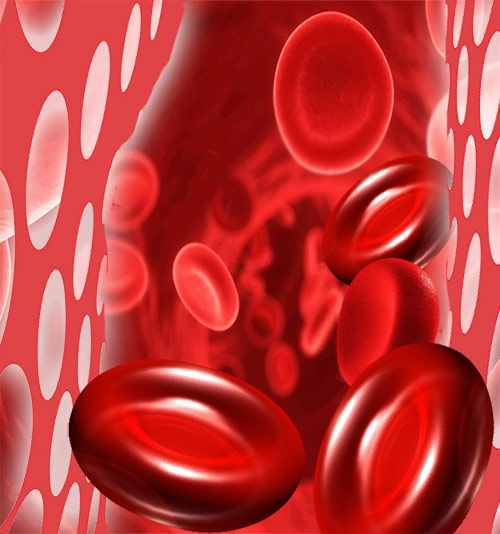 World Health Organization (WHO) defines anemia as a hemoglobin level lower than 13 g/dL in men and lower than 12 g/dL in women. It is essential to be familiar with the typical symptoms of anemia. Often anemia is misdiagnosed and left untreated. An anemic person is likely to feel extremely tired and weak. This is accompanied with dizziness and breathlessness. A person suffering from anemia tends to appear pale and experience feelings of depression. In some cases, anemia can lead to heart ailments too.
Causes of Anemia
Serious disease or infection such as hookworm infection, bleeding piles, esophageal var ices and peptic ulcers.

Hemorrhagic - Excessive blood loss due to surgery, menstruation or injury.

Genetic defects lead to sickle cell anemia, Thalassemia anemia and aplastic anemia.

Hemolytic - Excessive intravascular blood destruction where red blood cells are destroyed prematurely.

Types of Anemia
Iron deficiency Anemia - Nearly 20% adult women tend to suffer from this form of anemia. Loss of blood due to menstruation is not compensated with an iron-rich diet. Pregnancy and breast feeding can also deplete iron stores. Iron deficiency anemia is also noticed during growth spurts or internal bleeding.
Aplastic anemia - When the bone marrow does not produce sufficient quantities of blood cells, aplastic anemia is noticed. Childhood cancers such as leukemia are often responsible for this form of anemia. Other possible causes of aplastic anemia are radiation, cancer or antiseizure medications and chronic diseases such as thyroid or kidney malfunction. Treatment for aplastic anemia involves blood transfusions and bone marrow transplant. This is done to replace malfunctioning cells with healthy ones.
Vitamin deficiency anemia - Low levels of folic acid lead to faulty absorption of iron. Anemia caused due to folic acid deficiency is called Megaloblastic anemia. Pregnancy doubles the body requirements of folic acid and it is imperative that pregnant women take folic acid supplements. Good dietary sources of folate are fresh fruits, green leafy vegetables, cruciferous vegetables, liver and kidney, dairy products and whole grain cereals. Vegetables should be eaten raw or lightly cooked.Folic acid anemia is also a common problem faced by alcoholics. Vitamin B-12 deficiency can lead to a condition of Pernicious anemia. Diseases such as thyroid malfunction or diabetes mellitus can affect the body's ability to absorb vitamin B-12. This vitamin is vital in the production of hemoglobin.
Vitamin C Deficiency Anemia is a rare form of Anemia that is the result of small red cells owing to prolonged dietary deficiency of the Vitamin C.
Sideroblastic Anemia: In this anemia, the body has sufficient iron but it fails to incorporate it into hemoglobin.
Hemolytic Anemia results from high rate of destruction of Red Blood Cells (RBC) at a rate faster than the rate bone marrow can replenish them.
Thalassemia anemia - Thalassemia or Cooleys Disease is a hereditary disorder found predominantly in people of South East Asian, Greek and Italian racial groups. This form of anemia is seen in differing degrees as Thalassemia encompasses a group of related disorders that affect the human body in similar ways. The most common occurrences of Thalassemia are alpha and beta thalassemia. Thalassemia anemia is characterized by symptoms like jaundice, enlarged spleen, shortness of breath and facial bone deformities.
Diagnosing Anemia

A complete blood count test will test for hemoglobin levels and display an anemic condition. But often anemia is a symptom whose cause lies deeper. The cause and type of anemia will determine the treatment that is needed. A stool test will help in detecting occult blood. Hemoglobin electrophoresis is a blood test that helps identify abnormal hemoglobins. Diagnosing thalassemia or sickle cell anemia becomes possible with this test.
Treating Anemia

Deficiency can be treated with supplements of iron, Vitamin B-12 and Vitamin C. Partaking an iron-rich diet can be beneficial for those suffering from nutritional deficiency anemia. Seafood, nuts, whole grains and dried fruits such as raisins, prunes and apricots are rich in iron. Ensure adequate consumption of Vitamin C as it aids and stimulates iron absorption. Try and combine citrus foods with iron-rich foods - add tomatoes to a turkey sandwich or chopped strawberries with iron-fortified breakfast cereals.
Vitamin B12
Vitamin B12 or cobalamin helps to make red blood cells and is important for brain and nerve cell functions. Vitamin B12 is effective in DNA synthesis, fatty acid synthesis and cell metabolism. Vitamin B 12 is found naturally in fish, red meat, poultry, milk, cheese, and eggs and also breakfast cereals. B12 deficiency leads to pernicious anemia - which manifests in the form of weakness, sore tongue, general apathy, back pain and tingling in the extremities. Vitamin B12 helps maintain a healthy digestive system, healthy skin and hair and protect against high blood pressure and heart disease. Vitamin B 12 helps protect against breast cancer, colon cancer and prostate cancer.
RDA - Recommended Daily Allowance:
Adults - Men: 2.4 mcg
Adults - Women: 2.4 mcg
Pregnant Women: 2.6 mcg
Breast feeding Women: 2.8 mcg

Vitamin B12 is generally well tolerated.
Paraplegia
Paraplegia is sensory or motor disorder in the lower extremities of the body. The impairment is due to damage caused as a result of congenital deformities or trauma and spinal injuries. The effects of paraplegia are predominantly seen in the thoracic, lumbar and sacral region. The damage caused as a result of paraplegia can lead to other issues such as monoplegia (dysfunction of one organ), paralysis and some times fecal incontinence and impotence.
Spastic paraplegia and flaccid paraplegia are two important forms of the disease which are differentiated based on the location. Flaccid paraplegia is associated with the lesion caused in the spinal cord; which in turn causes two significant forms of myelopathies compressive and non-compressive respectively. The compressive form of paraplegia occurs because of the destruction of the spinal cord due to pressure exerted on it. In most cases the pressures caused are because of underlying medical conditions such as neoplasms, degenerative spinal disease or hematoma. The compressive forms are predominantly located in extradural and subdural regions causing extra medullary and intramedullary complications such as neurofibroma and meningioma.
The lesions caused affect the spinal arteries causing ischemia eventually leading to tissue necrosis in the respective region. This leads to the development of edema in the spinal region causing compression and damage. Because of increased pressure, paraplegia can initiate complications such as pneumonia, pressure sores which are decubitus in origin. Often the pain associated with paraplegia radiates in the region of nerve damage. Vitamin B 12 deficiency also leads to the occurrence of paraplegia of non compressive origin.
Tags:
#Anemia
#Vitamin B12
#Paraplegia